When you plan to establish a global startup in another part of the world, the choice of your destination is the most significant aspect. You must look for a country with liberal regulations and tax norms for foreign entrepreneurs.
The ease of immigration is another factor that goes a long way in deciding the destination. After all, you will not want to set up your new business in a country with endless formalities.
Italy is an excellent choice as it wins on all fronts. You can get in easily with the investor visa and explore a broad market in the country and across the EU. Moreover, you can make the process a breeze by collaborating with experts as these professionals can assist you in the process from start to end. You can rely on them for asking questions and clarifying all your doubts. Here are some valuable investor visa insights for global startup aspirants.
What Global Startup Aspirants Should Know About Italian Investor Visa?
1. Minimal Eligibility Requirements
Immigration is often complex because most processes have stringent eligibility requirements. Different countries have immigration laws that define these requirements, and applicants must fulfill them to qualify for the process.
The best thing about the Italian investor visa process is that it has minimum eligibility requirements. You only need to be over 18 years to qualify. A clean criminal record and a good state of health are the other two requirements. It means that almost every aspiring entrepreneur can qualify for an investor visa. The main concern is your ability to invest in the country. But you have flexible options for investment as well.
2. Multiple Investment Alternatives
With the Italian investor visa, you have multiple good investment opportunities to ensure that you can fit it into your startup budget. It means you need not worry about bringing a hefty amount to buy your way in and start a business in the country. You even have the choice to pick the entity you want to fund for the eligibility objective. Here are the investment alternatives to consider-
An innovative startup in Italy- €250,000
An established business- €500,000
A donation to public welfare initiative- €1 million
Purchase of Italian government bonds- €2 million
3. An Easy Two-step Process
One thing that entrepreneurs like much about the Italian investor visa is that its process is super-easy. You can complete it within a few months and get started with establishing your business in Italy sooner than later. The visa process has only two steps-
Obtaining a nulla osta- You can submit an online application for a certificate of no impediment (nulla osta) to validate your ability to invest with bank proof. The step takes only 30 days to complete.
Investor visa application- After getting the nulla osta, you can submit your investor visa application at your local consulate. Expect it to close at the earliest if your documentation is complete and accurate.
4. Set Up Your Startup With a Residence Permit
You can land in Italy with an investor visa, but you require a residence permit to set up your venture. The good thing is that you can get it right away with a simple application process. But you will have to bring the committed funds to Italy within three months of getting your residence permit. Once you sort out these formalities, you can start, grow, and expand your business.
You can even explore the EU markets with the option of visa-free travel to the Schengen region. Moreover, you can bring along your family and set up a home in Italy. Your loved ones can immigrate without additional investment.
5. The First Step to Citizenship by Naturalization
Anyone who sets up a business overseas expects to stay there for good. The Italian investor visa serves as the first step to citizenship by naturalization. It converts to a residence permit right away. The next step in the transition is getting permanent residence status after a five-year stay in Italy.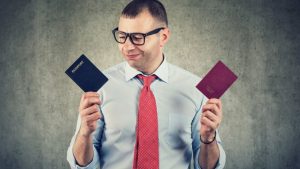 You qualify for citizenship by naturalization after staying back as a resident for a decade. The only condition is to retain the initial investment through these phases. The journey sounds long and daunting, but expert guidance can help you breeze through the immigration milestones.
As a global startup aspirant, you can depend on the Italian investor visa to open up excellent opportunities for your new business. Remember to stick with the paperwork, formalities, and immigration rules to stay on the right track. It means you do not have to worry about immigration hassles and can focus on the growth of your international venture.