Whether you are an experienced freelancer or you just had enough from corporate social, and your first steps into the freelance world, the fact is that the competition in the industry market is on the rise. So what is the strategy to stand out from the crowd and make an impression?
The answer lays in your resume! It is not a simple task to create an eye-catching CV but with the right knowledge and tools, the job should be yours for the taking. Let's dive deep into the matter!
Freelancer Resume vs. Job Resume
The fundamental difference between a freelancer's CV and that of a job seeker is that, in the latter, the goal is to catch the eye of an employer, whereas, in the former, the key is to win over a business client.
Hence, as a freelancer, your resume must serve as a marketing pitch. So, let's get to the bottom of it and try to build a stellar freelancer resume that will win over clients and double your earnings.
Go With The "Skills-Based" Format
The chronological format is the go-to for a standard resume, however, things are a bit different when you create a freelancer CV.
The first step is to put yourself in the shoes of hiring managers/recruiters. The people and companies who search for freelancers want their employees to solve projects with a specific set of skills and abilities – they're less concerned with your work history since you were a teenager, for example.
Consider which skills are relevant to the job and highlight them, then include specific projects or companies for which these skills were valuable, comment mock interview preparation professionals Enhancv.
Tailor Your Resume to Fit the Gig You Want
Hiring managers scan through a never-ending pile of resumes to fill a single position. One way to get your CV swept under the rug is to have an "anemic" resume that doesn't directly match the employer's needs.
Pay attention to the job description and include experience and skills that are relevant to it. 
Include Only Relevant Education or Courses
Do not underestimate the education section of your resume. It is an integral part, as it shows your dedication throughout the years and your hunger for knowledge. It also gives credibility and eases the job-hunting process.
Of course, here applies the rule of thumb – to include only relevant information to the position you desire. Add degrees, courses, training programs like sales programs, or other certifications that are fitting to the job posting.
Add Facts And Figures
Potential employers like to know how you contributed to the previous companies you worked for. They want to see the results on paper, so it is beneficial to quantify your achievements.
Remember to be selective and underline only your most impressive achievements.
Example:
●       Unquantified: Formed an online marketing platform and increased client acquisition numbers.
●       Quantified: Developed an innovative online marketing platform that produced a 30% jump in organic search traffic and $9,000 of increased sales.
Enrich Your Resume With Website and Online Profiles
A good idea is to refrain from probably adding every social media marketing you use, but you should at least include accounts that include relevant work.
For example, an online freelance photographer should share their Instagram page. A reporter can highlight their competencies by sharing their Twitter feed.
As a freelancer, you will definitely make a good impression if you share your website, LinkedIn profile, or any industry-specific accounts you have (i.e. Dribble or GitHub).
Add Keywords And Get Seen
Keywords are an integral component of the digitalization process, and your resume makes no exception.
Most companies use automated tracking software (ATS) that scans through resumes before they reach the eyes of a recruiter or a potential employer.
●       Once more, paying attention to the job descriptions is the path to success.
●       Include keywords relevant to the posting or the field in question.
Be Assertive And Include Yourself on Your Resume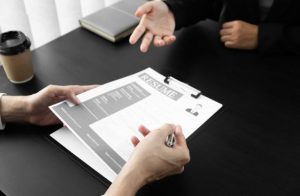 Most forward-thinking companies search for people who fit both the job posting and the company's social environment.
This means your CV should allow potential employers to get a peek at your personality and ideals. You should still avoid first-person statements, but it is essential to find a way and convey your personality without the use of "I" sentences.
Describe a recent passion project, charity work, or hobbies. It is ideal if you manage to tie it into the job listing, but at the same time go beyond your particular skills and dive into who you are as a person. It is a fragile balance, but if you follow our tips, we are certain you will create a strong freelancer resume!
Feel Free To Brag A Little
While modesty is a genuine personality trait, it shouldn't stop you from showcasing your accomplishments. Being too humble will not convey confidence in your work. It can be uncomfortable for some, but the key to landing a job is by declaring that you're the absolute best and your value should radiate through your resume, cover letter, and work samples.
For example, if you've worked with major companies or important clients, mention them in your CV. Hiring managers are often drawn to recognizable names and will be more prone to select you for an interview.
The reason is, that by adding this information, you prove that you are able to provide a high level of service.
Choose A Proper Resume Layout
The first thing hiring managers notice is the layout – its length, font, size, etc. Below, we comprise the best practices CV layouts:
One page in length. That's right – only 1 page! Go as further as 2 pages if you believe that it'll add significant value or if your field is specific (medicine, law, etc.). Recruiters in large companies got through 1,000+ CVs monthly. They don't have time to read a whole novel, so be mindful of what you include!
Consistent section headings. Select a heading and use it for all the section headers. This will give your resume a professional and clean look.
Broad white spaces, especially around the margins.
Easy-to-read font. We recommend you go with classical fonts. Refrain from anything that is heavy on the eyes!
Proper font size. The optimal size for a normal text is 11 – 12 pt and 14 – 16 pt for section titles. Never, we repeat – never go below 9 pt.
As a rule of thumb, save your resume as PDF or Word. If it is not specified in which file type to send your resume, go with both. You will make a good impression and increase your chances of getting an interview.
Read: How Many Pages Should You Expect To Write For Specific Word Counts?
Takeaways
If you've followed our tips and tricks, congrats! You're probably an expert on how to make a freelancer resume.
To wrap it all up, let's revise the most important lessons:
Use the right skill-based format. Showcase your experience and skills and impress potential employers.
Quantify your achievements. Trust the numbers and add credibility to your work.
Add only relevant to the job information. Be it work history, education, or accomplishments, always aim to match them to the job description.
Include fitting keywords. There is no faster way to impress recruiters than having a CV that is a perfect match to the company's requirements.
Choose a suitable layout. Your freelancer resume should be straightforward and organized. Avoid screaming fonts, improper sizing, and other formatting mistakes.
If you have any questions, we are happy to answer them in the comment section below!