Hyderabad is a hub for multinational companies in India. With its favourable business environment and skilled workforce, Hyderabad has attracted numerous MNCs from various sectors such as IT, pharma, agriculture, and more. These companies have created job opportunities and contributed significantly to the growth of the city's economy. In this blog post, we bring the top 10 MNC companies in Hyderabad making waves with their innovative solutions and cutting-edge technologies. So let's dive into this list of the best MNC companies in and around Hyderabad near you!
Top 10 MNC Companies in Hyderabad
1. ADP India Pvt. Ltd.
ADP India Pvt. Ltd. is a subsidiary of Automatic Data Processing, Inc., one of the world's largest HR solutions and payroll processing providers. Established in Hyderabad in 1999, ADP India has provided end-to-end human capital management solutions to clients across various sectors.
With over 10,000 associates working from their offices in Hyderabad, Pune, and Chennai, ADP India has become one of the leading employers in the country. The company offers a broad range of services, such as payroll processing, benefits administration, and time and attendance tracking systems, to name a few.
What sets ADP India apart is its commitment to innovation and customer satisfaction. Their cloud-based platforms are designed to streamline HR processes while ensuring data security and accuracy. In addition to this, they also offer training programs for their employees that help them stay up-to-date with the latest technologies.
ADP India's dedication towards delivering quality services has earned them numerous awards, including 'Best Companies To Work For' by the Great Place To Work® Institute for seven consecutive years. ADP India continues to be at the forefront of providing comprehensive HR solutions that meet the evolving needs of businesses today!
2. Amazon Development Centre India Pvt. Ltd.
Amazon Development Centre India Pvt. Ltd., a subsidiary of Amazon.com, is one of the leading MNC companies in Hyderabad. This company has been established to provide software development and customer support services for Amazon's global operations.
The Hyderabad centre was set up in 2005 with around 50 employees and has grown exponentially over the years, currently employing thousands of people. They have state-of-the-art facilities with advanced technology infrastructure, which helps their teams work on various projects seamlessly.
The company provides its customers with an exceptional experience through innovative solutions and technologies. It values diversity and inclusion by offering equal opportunities to everyone regardless of race, gender or sexual orientation.
Amazon Development Centre India Pvt. Ltd.'s goal is to be a leader in e-commerce and significantly create employment opportunities across India while providing excellent service to its customers worldwide.
3. Bayer Bio Science Pvt. Ltd.
Bayer Bio Science Pvt. Ltd. is one of Hyderabad's top MNC companies focusing on healthcare and agriculture products. The company's main goal is to make a difference in people's lives by providing innovative solutions for various health and agricultural challenges.
Bayer Bio Science Pvt. Ltd. has been operating in India since 1896, making it one of the oldest companies in the country. With over 150 years of experience, Bayer Bio Science Pvt. Ltd.'s experts have developed a deep understanding of local needs. They are committed to helping farmers increase crop productivity while preserving natural resources.
The company's product range includes seeds, crop protection products, consumer health products, animal health products, and pharmaceuticals for human use. Bayer Bio Science Pvt.Ltd also invests heavily in development to stay ahead of market trends and satisfy customer demands.
Furthermore, Bayer is actively involved with smallholder farmers under its Better Life Farming initiative that aims to improve farming practices through training programs enabling them to produce more food sustainably, thereby increasing their income levels whilst contributing positively towards achieving SDG goals set by UNDP.
In conclusion, Bayer Bio Science Pvt.Ltd. is an esteemed MNC company dedicated to producing innovative solutions that help improve people's health worldwide whilst simultaneously promoting sustainable agriculture practices globally, thus establishing itself as a true leader among other global players within this sector, i.e., the healthcare and agrochemical industry.
4. Blue Yonder Pvt. Ltd.
Blue Yonder Pvt. Ltd. is a multinational software company specialising in supply chain management and retail solutions. They offer products that help businesses optimise their operations and make data-driven decisions.
One of Blue Yonder's flagship products is the Luminate Platform, which leverages artificial intelligence and machine learning to provide real-time visibility into every aspect of the supply chain. With Luminate, small businesses can forecast demand, optimise inventory levels, and streamline transportation logistics.
In addition to its supply chain solutions, Blue Yonder offers a range of retail applications that enable retailers to deliver personalised customer experiences across all channels. These applications include price optimisation tools, digital marketing platforms, and customer engagement solutions.
Blue Yonder has a strong presence in Hyderabad, with its development centre in Madhapur. The company has been recognised for its innovative approach towards solving complex business problems using cutting-edge technologies like AI/ML & Cloud Computing.
Blue Yonder is one of the best MNC companies near Hyderabad for those interested in working on cutting-edge technology projects related to supply chains or retail operations.
5. Corteva Agriscience
Corteva Agriscience, a subsidiary of Dupont, is one of India's leading agricultural technology companies. They specialise in developing innovative and sustainable solutions for farmers to maximise crop yields while minimising environmental impact. Their extensive portfolio includes seeds, crop protection products, digital tools and services that help farmers make data-driven decisions.
With its headquarters located in Hyderabad, Corteva Agriscience has made significant contributions to the Indian agriculture industry over the years. They have established strong partnerships with local farmers and research institutions to develop customised solutions that address specific challenges faced by Indian agriculture.
Corteva's commitment to sustainable practices is reflected in its efforts to reduce greenhouse gas emissions from farming activities. They have developed several initiatives to reduce their carbon footprint by responsibly using natural resources like water and soil.
Corteva Agriscience continues to be at the forefront of innovation in agricultural technology, constantly striving to create a better world for farmers and consumers.
6. Gland Pharma Ltd.
Gland Pharma Ltd. is one of the leading pharmaceutical companies in Hyderabad, India. Established in 1978, Gland Pharma has provided high-quality generic injectables for over four decades.
The company's state-of-the-art manufacturing facility meets international quality standards and regulatory requirements. This enables them to produce a wide range of products, including sterile injectables, oncology drugs, ophthalmic solutions and more.
Gland Pharma's commitment to research and development ensures that they are always at the forefront of innovation in the pharma industry. They have numerous product patents and continue investing heavily in R&D.
The company's customer-centric approach has helped it build long-lasting relationships with clients across the globe. As a result, gland Pharma exports its products to over 60 countries worldwide, making it a truly global player in the pharmaceutical industry.
Gland Pharma Ltd.'s dedication towards quality, innovation and customer satisfaction sets it apart from other MNC companies operating out of Hyderabad.
7. Google India Pvt. Ltd.
Google India Pvt. Ltd., one of the most prominent MNCs in Hyderabad, is a subsidiary of Google LLC based in California, USA. The company offers internet-related services and products for businesses, such as online advertising technologies, search engines, cloud computing software, and hardware.
Google India was established in Hyderabad in 2004 with just 100 employees; however, today, it has become one of the largest employers in the city, with over 8,000 staff members working across different departments.
The company primarily focuses on innovation and creating a sustainable future through technology. In line with this mission, Google India has launched several initiatives to support entrepreneurs and startups nationwide by providing them access to various resources like mentorship programs and funding opportunities.
Additionally, the office space reflects an innovative work culture that encourages employee creativity. With recreational areas like gaming zones, nap rooms on-premises, and other employee-friendly benefits such as health insurance coverage, Google India ensures a comfortable workspace for all its workers.
Google India Pvt Ltd remains a top contender among MNCs in Hyderabad owing to its strong emphasis on innovation-driven growth strategies and employee satisfaction measures, making it an ideal workplace for tech enthusiasts!
8. Mars International India Pvt. Ltd. (Pedigree)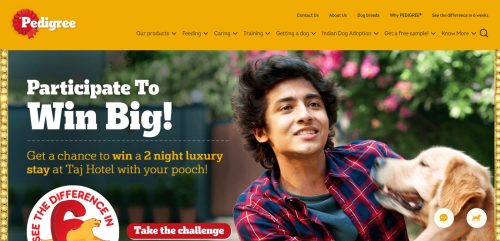 Mars International India Pvt. Ltd. is a subsidiary of Mars, Incorporated – one of the world's largest manufacturers of confectionery, pet food and other consumable goods. Their Hyderabad office works primarily on their Pedigree brand, which specialises in dog food and treats.
Their mission goes beyond just selling pet products; they aim to make a positive difference in the lives of pets and their owners through responsible sourcing, sustainable production practices, and community engagement programs.
Mars International India Pvt. Ltd.'s Hyderabad office offers employees an open work culture that values innovation, collaboration and professional growth opportunities. They are committed to creating an inclusive workplace where every employee feels valued and supported.
The Pedigree brand has gained a loyal customer base due to its focus on providing high-quality dog nutrition at affordable prices. With research-backed formulas designed for different life stages and breeds, Pedigree ensures that dogs everywhere have access to nutritious meals that help them live long, healthy lives.
Mars International India Pvt. Ltd.'s Hyderabad location is a great example of how MNC companies can positively impact local communities by prioritising sustainability, inclusivity and quality products/services over profit alone.
9. Prolifics Corporation Ltd.
Prolifics Corporation Ltd. is a global technology solutions provider specialising in digital transformation and innovation. They have been operating in Hyderabad for quite some time now, offering cutting-edge services to their clients.
One key factor that makes Prolifics stand out from other MNC companies in Hyderabad is their strong focus on customer satisfaction. They work closely with their clients to understand their needs and deliver customised solutions that meet those needs precisely.
Another thing that sets Prolifics apart is its highly skilled staff, who are experts in various technologies such as cloud computing, blockchain, data analytics, artificial intelligence, etc. Their expertise enables them to provide top-notch services to their clients across multiple industries.
In addition, Prolifics also offers training and development programs for its employees so they can stay up-to-date with the latest firm trends and technologies. This helps its employees grow professionally and ensures they can offer high-quality services consistently.
Prolifics Corporation Ltd. has established itself as one of the best MNC companies in Hyderabad by providing innovative solutions while maintaining a strong focus on customer satisfaction and employee growth.
10. Signode India Ltd. (ITW India)
Signode India Ltd. is an Illinois Tool Works (ITW) group subsidiary, an American multinational conglomerate holding company with industrial products and equipment expertise. Signode India Ltd. specialises in providing packaging solutions to various industries such as steel, aluminium, chemical fibres, glass, construction materials and consumer goods.
The company offers a wide range of products, including strapping tools and systems for securing packages together, stretch wrapping machines that wrap plastic film around boxes or pallets for transportation purposes and protective packaging solutions such as cushioning materials like foam or bubble wrap.
Signode India Ltd has been known for its quality management system, certified by ISO 9001:2015 standards, ensuring customer satisfaction through continual improvement.
Their innovative ideas and world-class technology-driven strategies, followed by strict adherence to industry norms, make them one of the best MNC companies in Hyderabad.
Conclusion
Hyderabad is a booming city in terms of job opportunities and career growth. The presence of these MNC companies has contributed extensively to the development of the city's economy. These companies have opened up avenues for individuals who want to work in challenging environments and be part of something bigger than themselves.
The above-listed MNCs are just a few examples among many other big players that have set up shop in Hyderabad over the years. They offer diverse opportunities across various industries, from technology, pharmaceuticals, and agriculture to finance.
If you're looking for an exciting career opportunity with some of the best MNC companies near you, then Hyderabad is undoubtedly an excellent place to start your search. With its rich cultural heritage, top-notch infrastructure facilities, and fantastic career prospects, it's no surprise that Hyderabad continues attracting talent from all corners of India and beyond.